Real fur vs. Faux Fur – What's the Difference?
As temperatures drop, it's time to bring out the hoodies and sweaters. But nothing feels cozier than a weighted faux fur blanket to keep you warm in the dead of winter. Faux fur is a hot topic among fashion designers, high-street shops, and retailers as it is a sustainable, eco-friendly alternative to real fur.
Numerous popular fashion brands have been caught lying about real fur or fake fur labels. The problem arises when one can't tell whether your stylish faux fur coat or faux fur throw blanket came without the tag of cruelty.     
It surely is tricky to know if the fur is genuinely real or fake, so here's how to tell the difference and choose the right fur product for yourself.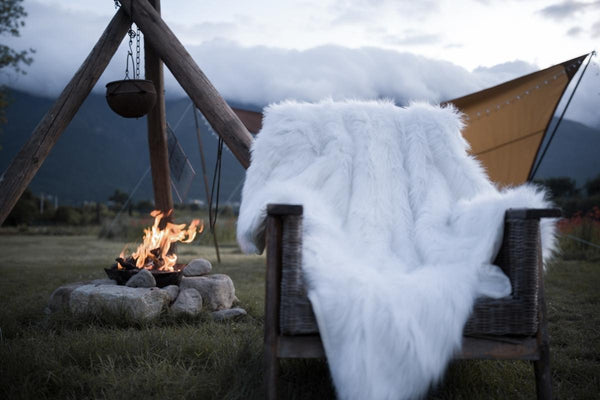 An Overview
Real fur and fake fur have some fundamental differences. Let's learn more.
Real Fur
It's exactly what it sounds like, i.e., made from all-natural animal fur.
Real fur is used heavily to manufacture blankets, coats, throws, fashion accessories, and hundreds of other products. Hundreds of animals are killed to create one piece of real fur attire, making it quite expensive. Usually, authentic fur is stolen from foxes, rabbits, chinchillas, and other animals that are murdered only for this purpose.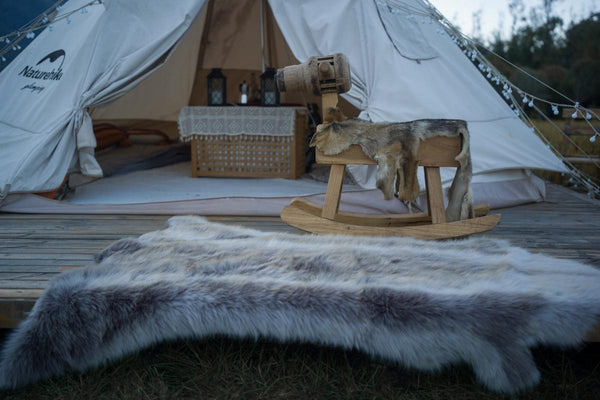 Faux Fur
Faux fur, aka fake fur, is a synthetic fabric manufactured to mimic the aesthetics of real animal fur without harming any living thing. Manufacturers use a blend of polyester, acrylic, and other materials to create something that looks real but isn't cruel or harmful to anyone or anything.
Moreover, since the materials used are way more durable, they can be dyed in almost any color, making them more accessible and ethical than real fur. The warm blankets created from faux fur would deliver on all pointers without the cruelty price.
The Never-Ending War Between Real And Faux Fur
We find ourselves before the two superpowers of the fashion industry. One claims that quality is a priority, and cheap artificial fur simply doesn't offer it. On the contrary, some love wearing furry coats and snuggling in warm blankets without having it weigh on their conscience, so they don't mind faux fur products.
Thankfully, these days faux fur is almost indistinguishable from real fur. According to an HSI (Humane Society International) investigation, several stores were caught selling fake fur items with origins in real fur and not synthetic fibers, despite having no-fur policies.
How can you tell whether the product you buy is ecological and cruelty-free? Luckily, there are a few ways to determine faux fur and real fur products:
1.
Check The Labels
Based on international regulations, items containing fur must be labeled as 'non-textile parts of animal origin', making you assume that it's most probably silk, wool, or leather. When fashion industries use real fur, they would most likely put it on the label and charge higher prices.
At the end of the day, real fur is not ecological and sustainable, whereas fake or faux fur is entirely harmless, environmental-friendly and maintainable.
2.
Pay attention to care instructions
Retailers and fashion designers often tag special storage requirements with their real fur apparel. Typically, it would include a fur cleaner, storage instructions, and other conditions. On the contrary, faux fur is easily manageable.
In case you have a busy lifestyle and are looking for an easy to take care fur products, choose faux fur blankets, throws and hoodies.
3.
Burn Test
Probably not one to try in a shop, but you could do it on something you already own. Trim a couple of hairs and ignite them. If they burn like hair, then it's the real thing. As faux fur melts in a sticky way, forming a hard plastic ball as cooled.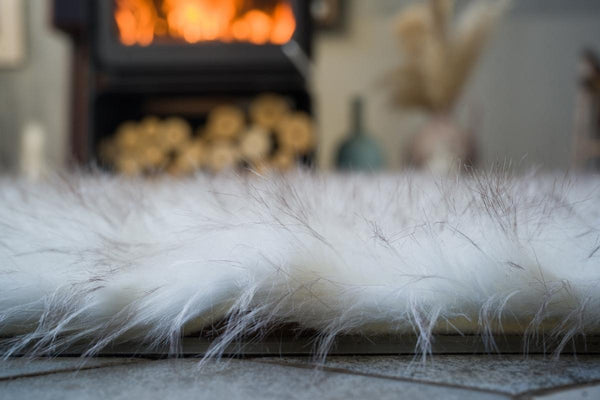 4.
Look At Tips And Texture
Usually, the tips of hairs in the real fur taper would have pointed ends, while faux fur would have blunt hairs due to the manufacturing process.
Besides this, real fur is quite velvety, silky, and smooth. And as highlighted above, fake fur would be coarser and rougher due to the cutting during manufacturing. However, with technological improvements, manufacturers have discovered ways to create fake fur that tends to feel real.
Not only this, when we look into Anifurry's faux fur products, they look almost like the real thing.
Wrapping Up
Some faux fur products like Anifurry can be very convincing, and in case you are still unsure but care about animal cruelty – don't worry; we have a solution.
If you are in the market and looking to purchase realistic double sided faux fur blankets, faux fur duvet covers, faux fur pillow covers, or fake fur fashion accessories, head over to Anifurry. We have a wide variety of high-quality faux fur products that aren't only great for your home but are also excellent gift options.